About Us Tuba City
MISSON STATEMENT:
"Provide quality automotive support services for the Navajo Nation"
VISION STATEMENT:
"Efficiently moving the Navajo Nation with safe, reliable transportation"
The Tuba City Service Center was established in the early part of 1980, at that time the shop consisted of three service bays and a very small office/parts room. With the growth of the Navajo Nation and the need to provide services to the Dine People increased so has Fleet to the current size of five service bays, a larger parts room and office has been accomplished over several years. Access to our location can be made from Edgewater Drive and Tuba City Recycle Station road. (see map).

Staff consists of a Fleet Service Manager, Accounts Maintenance Specialist, Sr. Automotive Parts Technician, Service Writer, Sr. Automotive Technicians and a full time custodian.

Fleet Management Department maintains and services over 1,600 vehicles through five Service Centers strategically located throughout the Navajo Nation. It provides support to over 150 different departments, programs and other Navajo Nation Entities.

Tuba City Service Center is responsible for the repair and maintenance of Two hundred plus vehicles and various departments currently in the Western Agency.


Contact Us
Telephone Numbers listed below
Main Office
(928) 283-3368
Fax
(928) 283-3374
Parts Department
(928) 283-3370
Service Department
(928) 283-3371
Mailing Address:
Navajo Nation Fleet Management
P.O. Box 3047, Tuba City, Arizona 86045
Shipping:
3368 Fleet Mgmt Road
Tuba City, Arizona 86045
GPS coordinates:
36' 07.72N. 111' 14.09W





Like us on:
Driver Responsibilities
The following are items of interest as to the operation, care, cleaning, inspection and operational conditions of Navajo Nation Vehicles.
All Drivers are required to have in possession at all times during operation; VALID State Driverís License and Navajo Nation Operatorís Permit and the following information or documentation;
Title/Registration
Vehicle Assignment
Insurance Card
Vehicle RUSCO Fuel Card
Wright Express Commercial Fuel Card
Drivers should familiarize themselves with the Navajo Nation Motor Vehicle Operators Hand Book policies and Vehicle Owners Manual.
Maintain a mileage log.
Appearance of assigned Navajo Nation vehicle, interior and exterior. "Operator's Handbook 2.5(N). Shall keep vehicle interior and exterior clean."
Cell phone usage is prohibited while operating a Navajo Nation vehicle. "TITLE 14 NAVAJO NATION MOTOR VEHICLE CODE PROHIBITED ACTIVITIES WHILE DRIVING ACT OF 2008".
Shall use seat belt(s) at all times while operating vehicle.
Departments/Operators are responsible for checking all fluids, lights and visual inspection prior to operating a Navajo Nation vehicle.
Department/Operators are responsible for delivery of Navajo Nation vehicle to Fleet Management for schedule preventive maintenance services (PM).
Shall use Navajo Nation Vehicles only to conduct official Navajo Nation business. Use of a Navajo Nation vehicle for PERSONAL BUSINESS IS PROHIBITED. Adherence to the official-use-only policy, emphasize lawful, prudent, and safe vehicle operation.
Priority of Vehicle Service
The following order for prioritizing the workload has been stipulated by the Council as a C.O.A.

First Priority vehicles are Life Support Vehicles, which consist of Emergency Medical Services, Dept. of Public Safety and Fire & Rescue. Thereafter, other departments for service by appointment only.


Services Offered
Vehicle Specifications, Vehicle identification, titling, and licensing. Vehicle replacement and disposal. Official usage and operating policies. Control of operating, repair and maintenance expense. Control of fuel credit cards and bulk-fuel stations. Proper waste disposal of tires, batteries, coolant and used oil. Implementation of automated fueling & credit card usage.

Preventive Maintance: A and B service. The purposes of preventive maintenance include insuring vehicle safety, reliability and reducing operating costs before they develop into major problems.

All unscheduled repairs: i.e.; tire replacement/repair, air conditioning service, windshield replacement/repairs, welding/metal fabrication, instrument cluster messages, (ck engine light, ck tire pressure light, etc), wiper blades and light bulbs, etc.

24/7 Bulk Fuel Access and Write Express pin number orientation.

Vehicle Recovery (Towing)

Vehicle rentals


Preventive Maintenance (PM) at Tuba City Service Center
We provide both scheduled and un-scheduled maintenance and repair for all Navajo Nation vehicles. This service center suggests that departments first make an attempt to schedule an appointment for regular PM's. For un-scheduled regular PM's requests, departments are welcome to drop off vehicle for next available opening. Inspection of vehicles undercarriage is conducted during normal PM's for any unseen concerns that require immediate attention and thus repaired.

A service (lube, oil and filter) are performed in intervals of 5,000 miles and also includes the following:


A SERVICE

INSPECT AIR AND BREATHER FILTERS

SERVICE/CLEAN KN AIR FILTER (IF APPLICABLE)

CK FUEL FILTER *10k INTERVAL(IF APPLICABLE)

INSPECT PCV

INSPECT LIGHTS, TURN SIGNAL AND FLASHERS

INSPECT BATTERY AND CONNECTIONS

INSPECT BELTS, HOSES AND COOLING SYSTEM

INSPECT SHOCKS, SPRINGS AND MOUNTINGS

ADJUST AIR PRESSURE TO CORRECT PSI

INSPECT DRIVESHAFT, U JOINTS AND SUPPORT BEARINGS

INSPECT EXHAUST SYSTEM
TIRE TREAD DEPTH

INSPECT SEAT BELTS FOR WEAR AND FUNCTION
LF

/32

ENGINE OIL AND FILTER CHANGE (A SERVICE)
RF

/32

LUBE CHASSIS
LR

/32

TOP OFF ALL FLUIDS
RR

/32

LUBE DOOR LATCHES AND HINGES
SPARE

/32

CK TIRE HOIST FOR OPERATION

UPDATE NEXT SERVICE STICKER, 5K INTERVALS

BODY DAMAGE:__________________________________________________________

"HOW'S MY DRIVING" DECAL
B services are performed every 30,000 miles, and consist of a four wheel brake inspection. This critical inspection requires additional time, departments are asked to plan accordingly:


B SERVICE

INSPECT AND SERVICE ROTORS AND OR DRUMS

INSPECT BRAKE PAD AND OR SHOES

INSPECT WHEEL AND MASTER CYLINDER FOR LEAKS

REPACK WHEEL BEARINGS AND SEALS (IF APPLICABLE)

TEST AND RECORD CHARGING AND STARTING SYSTEM
ALT OUTPUT ___________ STARTER DRAW _____________
FUEL PRESSURE OUTPUT _____________ PSI

VEHICLE WASH

UPDATE NEXT SERVICE STICKER 20K FOR ALL DEPARTMENTS
EXTRA TIME
DESCRIPTION OF WORK DONE

ROTATE AND BALANCE TIRE AND INSPECT FOR WEAR
(New this year is vehicle wash, if all services are kept in check)
A 10% mileage allowance (+/-) is allowed for both services. Your next service sticker is place in the upper left hand corner of your vehicles windshield. If for any reason departments have question on their next service appointment, service mileage or have missing next service sticker, please don't hesitate to call.

"Keep up to date on your A Service's and everything else will fall into place"


Un-Scheduled Maintenance
All unscheduled repairs: i.e.; tire replacement/repair, air conditioning service, windshield replacement /repairs, welding / metal fabrication, instrument cluster messages,(ck engine light, ck tire pressure light, etc), wiper blades and light bulbs, etc., require no appointment and should be brought to the service centerís attention.

Drivers are reminded that any vehicle body damages need to be reported to your supervisor, Fleet and Risk Management within 24 hours or three business days. Drivers should submit four forms of documentation:
Driver's incident memo
Police report or report number
Body estimate
*Please provide copies to Fleet Management.
Glass replacement includes but not limited to; WINDSHIELD replacement. Chip repairs such as "star" and "bulls-eye" type damages are also available and should be reported immediately and brought in for repair to offset the cost of total windshield replacement. Glass breakages also require that the department submit a complete GLASS BREAKAGE FORM for the Fleet Management files.




Fuel Cards
We provide Bulk Fueling at all service centers on a 24/7 basis from 8 a.m. to 5 p.m. Monday thru Friday. The system requires two cards to allow access to fuel. A personal RUSCO card is assigned to an individual and should not be loaned out, the vehicle card can be found in the vehicle glove compartment.


Fleet Management Agency/bulk fueling stations:

∑ Chinle
∑ Crownpoint
∑ Shiprock
∑ Window Rock
∑ Tuba City

After hour access is available at all service centers, card readers are mounted at main entrance and works with your valid RUSCO card.

∑ Kayenta Department of Law Enforcement

We provide Wright Express Orientation for use of fuel cards for off reservation travel. Drivers are also reminded to ensure fuel is adequate for travel distance. A PIN number is assigned to an individual who has attended orientation and has agreed to the terms and conditions of its use. Please refer to the ANNOUNCEMENTS section of our home page for the latest scheduled orientation, time and location. Drivers are reminded that vehicle fuel cards are issued to each vehicle and shall remain in the vehicle and not to an individual. Replacement cards are available at a cost.


Vehicle Recovery
TOWING of disabled vehicles is provided on a 24/7 basis either through normal business hours of 8am to 5pm Monday thru Friday, or after hours and weekends through the NDLE Dispatcher.


Please provide:
- Where: specific location, highway, mile post, etc.
- Who: Department, driver name, keys at location, etc.
- What: Type of vehicle and NT number.
- Why: stalled and no start, stuck, accident, dead battery.

If available, please provide cell contact number. A detailed description of location and type of assistance needed will help us best address your situation. Vehicles that are disabled and deemed parked at a secured location are subject to next business day for pickup.


NDLE contact numbers:
Tuba City
(928)283-3111/3112
Kayenta
(928)697-5600
Chinle
(928)674-2111
Dilkon
(928)657-8275
Window Rock
(928)871-6113
Shiprock
(505)368-1350
Crownpoint
(505)786-2050

Drivers shall remain with their Departmental vehicle until Tow Truck arrives.
DO NOT ABANDON YOUR VEHICLE!


Rental Vehicles
We have within the Rental Fleet, vehicles that are suitable for most any weather conditions and situation.

Rental Vehicle Access, Conditions/Cost:

The Rental Status vehicles are Temporary use vehicles and are always in high demand, with that in mind, it would be prudent to RESERVE well in advance of the intended pickup date. Rental Vehicles that are put on RESERVE status and if not cancelled two (2) business days prior to pick up date will be charged for that day.

The Rental vehicle may be accessed by the initiation of an Interdepartmental Charge Requisition (ICR) for the intended dollar amount or time interval. The ICR must be received prior to picking up any rental status vehicle and must be signed from General/ Contract Accounting for "Approval for Funds Availability".

The Cost for daily rental vehicles varies and depends on class desired, call or refer to budget manual.

Rental Vehicles picked up prior to 4:00 p.m. will be charged for the full day, if picked up after 4:00 p.m., the next day will be the start of daily charges. Rentals utilized throughout weekends shall be charged for weekends and may including any holidays.
When picking up a Rental Vehicle, please provide your approved Travel Authorization, copy of ICR, VALID Navajo Nation Operators Permit and State Driver's License.
Upon return of rental, drivers are to refuel, ensure vehicle is clean and have ending mileage and report any concerns


Parking
We provide lighted and secured parking for the Navajo Nation vehicles during non-use hours. The parking area is adjacent to the Fleet's Compound and accessible during the hours from 7 a.m. to 6 p.m. Monday thru Friday, due to limited space and liability only Navajo Nation vehicles are allowed parking within fenced area, for after hours access and on weekends; the parking area gate keys are available from Fleet.

The parking of Navajo Nation vehicles in restricted areas is of concern; those areas that may discredit to or reflect upon the Navajo Nation must be avoided. The parking of Navajo Nation vehicles in HANDICAP zones without proper identification is prohibited.


Other:
Hands-On Orientation available:
a)
Daily inspection of vehicle vitals fluids
b)
Tire visual inspection and air pressure.
c)
Flat tire change out, tool usage and locations.
d)
Tire chain installation and adjustments.
Upon request, Fleet is available to provide an "In-Service/Preventative Maintenance" Power Point presentation.
Reminder
MVOH Section 2.5Q:
Shall use Navajo Nation vehicles only to conduct official Navajo Nation business. Use of a Navajo Nation vehicle for personal business is prohibited.

MVOH Section 2.2.L:
Prohibited- Home to work usage of Navajo Nation vehicles unless authorized by the MVRB. The issuance of the Navajo Nation vehicle operator's permit and/or the assignment of a Navajo Nation owned or leased vehicle is hereby established as a privilege and not a right.

MAP (Not to scale)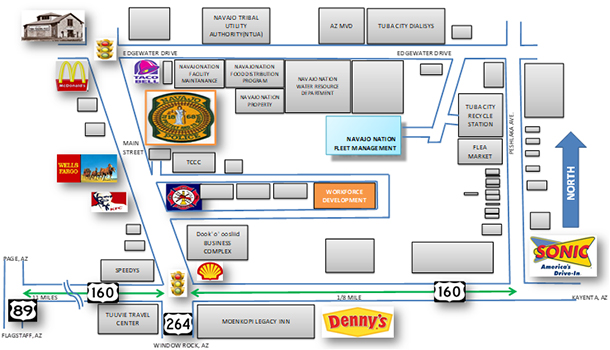 Click to download Adobe PDF map >>Tuba City Fleet Service Center Map

| | |
| --- | --- |
| © 2003 Navajo Nation Fleet Management • Disclaimer | |